MOON Coffee Table
$1,599
myFreedom Members Exclusive - Get January Prices Now - Login or Sign Up Now!

HOW CAN I GET IT ?
Enter your suburb or postcode to see delivery and collection options or to check availability.
DESCRIPTION
Sculpture or furniture? The Moon coffee table will have you and your friends guessing! Beautifully crafted from concrete with a stunning textured finish, the table is a pair of full moon and crescent moon designs nestled together that create a levelled look. It's your choice to keep them together or separate them to raise the style quota of your home. The perfect place to rest books, magazines, remotes and more, the Moon coffee table is the ideal centre piece for modern living rooms.
KEY FEATURES
Small table dimensions: W 50cm x D 50cm x H 48 cm 32kg
Large table dimensions: W 73cm x D 73cm x H 41cm 49kg
Colour: Natural
Size: 72 x 40cm
Material Composition: Concrete
Product Code: 24429368
SPECS & DETAILS
Assembled Product Dimensions
Width: 123 cm
Depth: 73 cm
Height: 48 cm
Weight: 81 kg
This product consists of 2 boxes or components
Box / Component 1:
Width: 95 cm
Depth: 86 cm
Height: 54 cm
Weight: 53 kg
Box / Component 2:
Width: 63 cm
Depth: 63 cm
Height: 61 cm
Weight: 39 kg
ASSEMBLY

Product Dimensions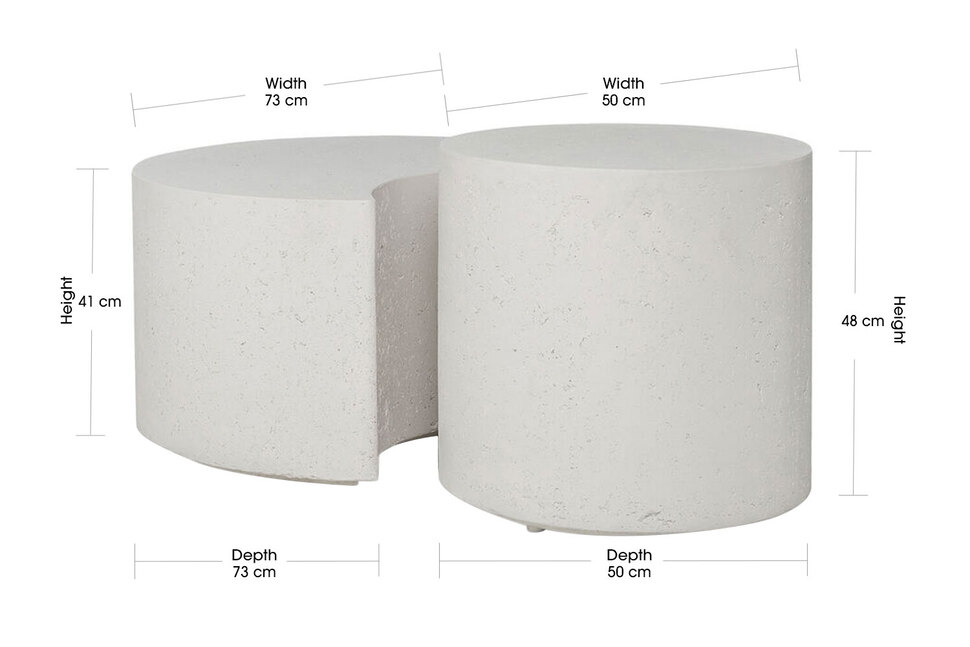 A customer who makes a purchase and writes a review will receive a discount coupon to use on their next purchase, irrespective of whether their review is favourable.
Full terms and conditions.​