MORNINGTON Bedside Table
$549
Free Metro Delivery on orders over $99!*

HOW CAN I GET IT ?
Enter your suburb or postcode to see delivery and collection options or to check availability.
DESCRIPTION
Clean lines that come together for a simple yet functional form, the Mornington bedside table is a great bedroom companion. Crafted from Tasmanian Oak veneer with natural variations each bedside table is unique. The two level design gives you a lot of space to keep your essentials. A beautiful memory in a picture-perfect photo frame on the top is a great way to end each night and begin every morning. A watch, phone, book and more find space on the slightly extended shelf below. Hide away clutter or store your important possessions safely in the drawer beneath. The aesthetic Mornington bedside table offers effortless style and impeccable organisation to create an inviting bedroom space just for you!
KEY FEATURES
Weight capcity per shelf : 8kg
Weight capcity per Drawer : 8kg
15cm space between top shelf and bottom drawer
Colour: Natural
Size: 1 Drawer
Product Code: 24413060
SPECS & DETAILS
Assembled Product Dimensions
Width: 55 cm
Depth: 45.5 cm
Height: 53 cm
Weight: 15 kg
This product consists of 1 box or component
Box / Component 1:
Width: 53 cm
Depth: 63 cm
Height: 62 cm
Weight: 20 kg
ASSEMBLY

Product Dimensions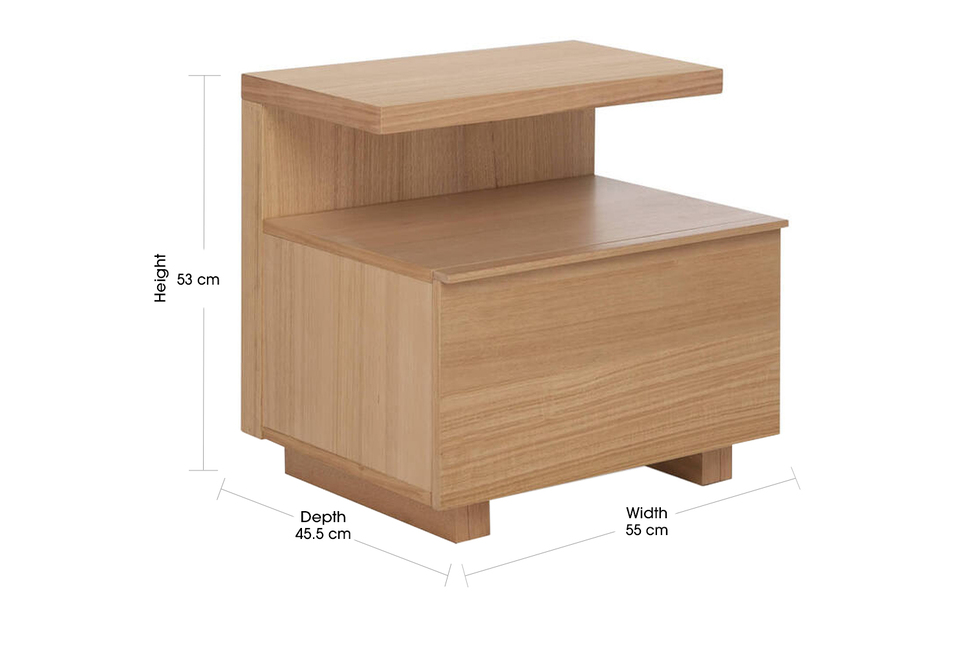 A customer who makes a purchase and writes a review will receive a discount coupon to use on their next purchase, irrespective of whether their review is favourable.
Full terms and conditions.​