BOWRAL Dining Table
$2,449
myFreedom Members Exclusive - Get January Prices Now - Login or Sign Up Now!

HOW CAN I GET IT ?
Enter your suburb or postcode to see delivery and collection options or to check availability.
DESCRIPTION
If you are a fan of the raw and natural look, then the Bowral dining table will appeal to your sensibilities! It is made from rough sawn Tasmanian feature grade oak with gum veins, gum pocket, inset trails and burls bringing nature in its rawest form right to your dining décor. The rectangular table top is supported nicely by angled post legs that lend all the stability in the world. With a seat for 6, the Bowral dining table is a great place to enjoy sumptuous food and indulge in heart-to-heart conversations. Go for a bench seating to beautifully complement the casual dining setup or pair with natural dining chairs to complete the look. Finished with hand-applied water-based clear lacquer sealant, so you can focus on entertaining without worrying about spills and drips.
KEY FEATURES
Made from Rough Sawn Tasmanian feature grade oak, featuring; Gum Veins & Gum Pocket, Inset Trails and Burls. This rough and rustic look shows off the timber in its rawest natural beauty. Matching bench seating available, each piece is one of a kind.
Hand-applied water base clear lacquer sealant
Angled post legs
Seats: 6
Overhang: 21cm
Under table clearance: 71cm
Made in China
Colour: Natural
Size: 180x90cm
Material Composition: Solid Tasmanian Oak
Product Code: 24322263
SPECS & DETAILS
Assembled Product Dimensions
Width: 180 cm
Depth: 90 cm
Height: 75 cm
Weight: 58.5 kg
This product consists of 2 boxes or components
Box / Component 1:
Width: 99 cm
Depth: 189 cm
Height: 16 cm
Weight: 49 kg
Box / Component 2:
Width: 85 cm
Depth: 88 cm
Height: 27 cm
Weight: 24 kg
ASSEMBLY

Product Dimensions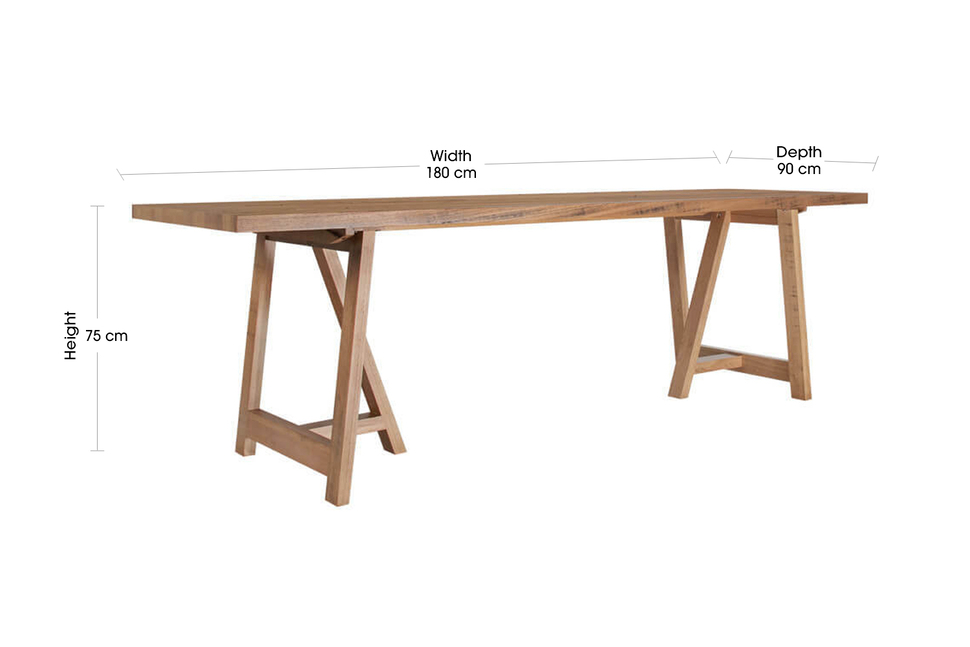 A customer who makes a purchase and writes a review will receive a discount coupon to use on their next purchase, irrespective of whether their review is favourable.
Full terms and conditions.​