DUCHESS bed end storage
$499
myFreedom Members Exclusive - Get January Prices Now - Login or Sign Up Now!

HOW CAN I GET IT ?
Enter your suburb or postcode to see delivery and collection options or to check availability.
DESCRIPTION
Whether you are looking to add additional storage solution, seating option or just some style and luxury, the Duchess bed end storage satisfies every criteria and more! The Ella cream colour brightens up any bedroom space décor. Crafted from high-quality timber and upholstered with a soft and smooth fabric, the furniture piece is designed to stand the test of time. Its padded and tufted foam seating offers the plushest of comfort. Start your day your way, get ready and all dressed up for the day ahead or relax, unwind and prepare to sleep, the Duchess bed end storage will become your favourite spot. The hidden storage beneath the seat is the icing on the cake. Treat yourself to some lavish luxury at the foot of the bed!
KEY FEATURES
Colour: Ella Cream
Material Composition: Timber / Foam / Fabric
Product Code: 23452619
SPECS & DETAILS
Assembled Product Dimensions
Width: 120 cm
Depth: 49 cm
Height: 42 cm
Weight: 17.6 kg
This product consists of 1 box or component
Box / Component 1:
Width: 122 cm
Depth: 51 cm
Height: 44 cm
Weight: 19.6 kg
ASSEMBLY

Product Dimensions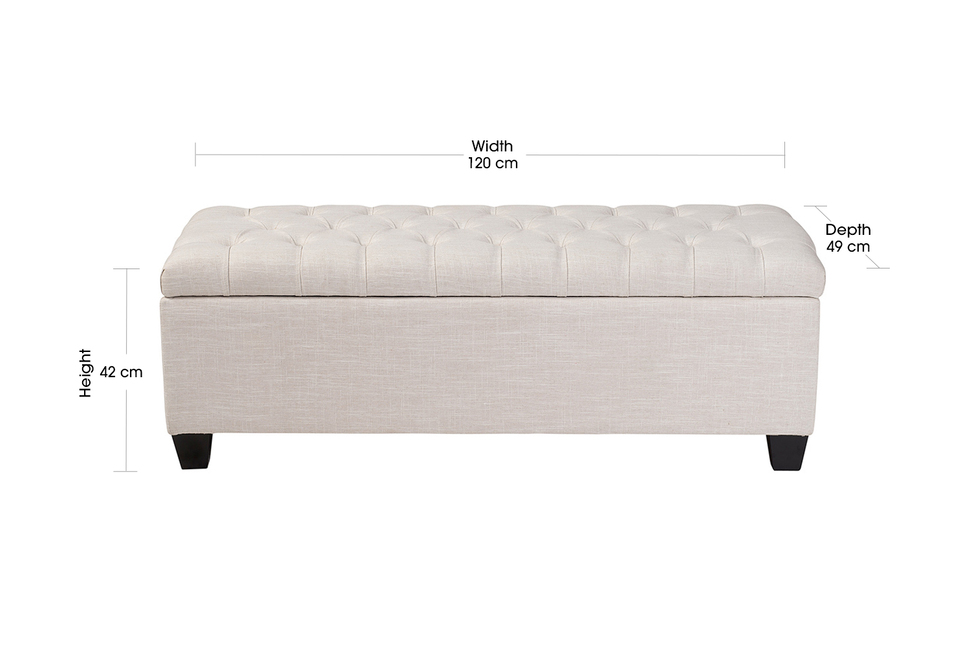 Other Products in the Duchess Collection
* Dimensions are in centimetres
A customer who makes a purchase and writes a review will receive a discount coupon to use on their next purchase, irrespective of whether their review is favourable.
Full terms and conditions.​